11 minutes remaining
Happy customers make the business boom. Happy employees create happy customers. So what makes employees happy? Employee Engagement!
A new perspective to the employee approach
Recent studies suggest that the most desired employees for a company are the ones who exhibit greater engagement in the organisation. Statistical evidence shows that engaged employees perform better, reach higher targets and affect the overall office mood and staff attitude. Ultimately, all this results in high levels of customer satisfaction, product and service quality, and revenue growth.
While big corporations have massive amounts of stock shares to cover the loss caused by low-skilled or disengaged staff, talented and loyal workforce is of an essential value for small businesses. It is good and happy employees that drive the organisation to the right direction of achieving goals and objectives.
The success of a business is actually dependant on an employer-employee-customer cycle. If the employer treats their employees with care, they are motivated to do their job better and satisfied with their position. This results in better service and therefore, higher customer satisfaction, more sales and business growth, which is what makes the business owner happy.
Keeping employees content with their job is part of the reason why so many well-performing companies of today are introducing flexible working arrangements, whether it is part-time, remote work, temporary assignment or apprenticeships. Busy lives demand flexibility and the lack of it can cause a lot of stress. A stressed employee is very unlikely to be engaged.
But aren't you curious what are the specific drivers for your employees satisfaction, unique to your organisation? What if you could get valuable insights on how to improve the working environment and overall company culture to boost the Employee Engagement?
8 ways to improve Employee Engagement as an employer
1. Value your employees
It is important that your staff understands how their work benefit the company and, which of their skills are making them the perfect fit for the job. As an employer, however, you need to go the extra mile to show your employees that they are valued. This could be done through generous sick pay policy or little celebrations for the worker's personal happy events, like a mini baby shower or 15-minute office birthday party. Such practices make employees feel they are appreciated for the people that they are and not just a resource for generating business revenue.
2. Lead firmly but with care
There's a difference between a manager and a leader. The former will normally try to control and intimidate staff, while the latter assigns tasks according to the person's strengths and encourage further development. Leaders are the ones who build Employee Engagement. Treating employees with respect is the best strategy for maximising productivity. Nobody likes being humiliated or taken advantage of. In the case where good leadership is in place, working professionals feel valued and satisfied, this then leads to them being more engaged in the organisation and stay loyal for a longer period of time.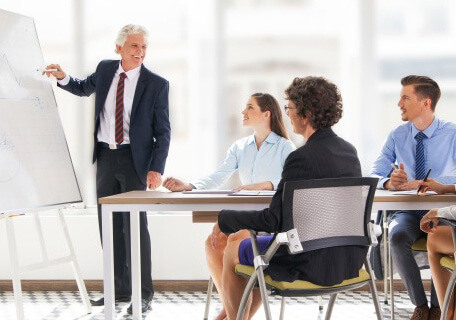 3. Align your people strategies with your engagement objectives
If you promote and insist on teamwork, but you have not implemented any rewards for group work then you are contradicting your stated values. If you expect a certain performance from your staff then you have to be ready to show them that you know how to appreciate it. It not only increases employee effectiveness but also their engagement. People strategies include promotions, organisational structure, compensation, benefit packages, retention and many others.
Furthermore, you will need to know what your employees' goals are and then align your business principles with them. Almost a third of the workers who wouldn't consider staying in a company for over a year feel that the organisational values are very different from their own or the employer's objectives are far apart from the employee's goals.
4. Get your employees involved in the decision-making process
Members of staff feel important and fulfilled when their opinion is considered when an important decision for the company is made. This could be anything from increasing or decreasing working hours to strategies for reaching milestones and goals. It often takes a long time and it is not very straight-forward to get employees involved in the decision making process but a good leader would have mastered the skill behind it.
5. Be sincere in your communication
One third of employees consider lack of honest communication from the top management as the strongest driver for employee disengagement. Apart from being open and sincere with your employees, it is also important to often talk to them face to face. This nurtures the emotional bond between them and the organisation. Keeping in touch with staff who works remotely also shouldn't be left at the back seat. "Open door policy" is one of the most effective strategies successful organisations have adopted. It brings a sense of trust and security for an employee to know that they can always pop into the manager's office when an issue arises, whether it is related to work or to a personal matter that may be affecting the worker's ability to perform their tasks efficiently. This, on its own, is not always enough. A really good leader will be the one to reach out to the employees at any given time and make sure they are all in the right physical, mental and emotional state to do their job as expected. Some staff members may not be a 100% comfortable with face to face communication on all occasions. It is important to respect their contact preferences where possible and use phone calls, emails or texts to reach them.
6. Be appreciative morally and materially
Just as you would put some sanctions on your employees when they are continuously doing something wrong, give them rewards when they do well. Such encouragement doesn't stay unnoticed and it is highly appreciated by employees. However, a great employer knows that material rewards are not enough. A verbal or written expression of gratitude and appreciation for the employee who's performing well, makes them feel truly valued and encourages them to do even better so that they can continue receive praises from the management. Timely and diverse recognition of employees efforts can impact their performance and retention level by up to 87%.
7. Ask Questions
Some employers avoid asking their employees what they want, expect or would like to receive from their job because they fear that the staff can have "unreasonable demands". While this is not an impossible scenario, most often it doesn't take a lot to make your team happy. The main benefit of asking directly your employees what they want, rather than guessing, is that usually you will get a different perspective and ideas that you haven't even thought of. Welcoming suggestions builds a brilliant relationship between employer and employee, acting on those suggestions keeps the bond alive. Not sure how to start? Small surveys are the perfect answer. They usually contain key questions that are very simple and not too inquisitive. For example:
What can we do to make your daily tasks easier or minimise the time you spent on a particular activity at work?
What makes it harder for you to perform up to or beyond expectations?
What are your aspirations for this role?
How else can we help you?
At the end of the day, we are all human and we love to be asked about how we feel and what we want.
8. Welcome complaints
Marshall Fields once said, "Those who buy, support me. Those who come to flatter, please me. Those who complain teach me how I may please others so they will buy. The only ones that hurt me are those who are displeased but do not complain. They refuse me permission to correct my errors and thus improve my service." Just like customers, employees also have complaints. If those are not taken into consideration the overall morale at the workplace will deteriorate and an organisation will find itself losing key staff members and maybe exceptional talents.
Knowing what's happening in your company is an advantage that smart business owners hold very dear. They know that constructive criticism and complaints that have been met with an open mind and care are what turns an organisation into a magnet for brilliant employees.
The best employer is the one who understands and values the importance of Employee Engagement
You can't have a thriving organisation without engaged employees. Everything from customer attraction and retention to productivity and innovation boils down to how happy your staff feels at their job and what is the level of their Employee Engagement in the company. Desired business outcomes are directly related to this and smart employers recognise it, measure it and find ways to improve it if needed.
Employee Engagement Surveys – the solutions you need
In the same way organisations use market research techniques and consumer insight softwares and platforms to learn everything they need to know about their customers, attract and retain them, employers should be adopting the same practices when it comes to data mining related to their employees. The better you understand the people who work for you, the more adequately you can respond to their needs and wants and ultimately, increase the level of Employee Engagement.
Knowing well the two driving sides of an organisation success, customers and employees, you will have winning business solutions for an unbeatable performance on the market.
What you need to know and monitor
If you want to be effective in your approach to understanding your employees, you must be prepared to receive face to face feedback on regular basis and distribute frequent online employee surveys. The first thing you need to know about your core members of staff is what their motivations and aspirations are. Then you need to look at the entire workforce environment and compare the same factors with those of the first group.
The feedback you receive will leave you with key indicators and highlights, which build a clear picture on how your organisation is doing with Employee Engagement and satisfaction. In bravoSURVEYS software you can compare current and past results, see how you have improved things or what has gone wrong since the last time you collected employee data. Our powerful dashboard shows and stores overall trends and compiled data, and gives you the opportunity to customise the categories on which you'd like to focus.
Learn How to Motivate Employees & Setup Your Feedback System
Do you need any more convincing on the importance of Employee Engagement? If you are ready to take your organisation to the next level, turn it into a top class desired workplace and significantly increase your revenue by improving employee effectiveness, bravoSURVEYS is the right tool to make that process easy and stress free. Make individual, ongoing feedback and development a part of your routine, and empower your employees to continually grow and do better. bravoSURVEYS provides you with the first step of successful Employee Engagement and the outcomes in your business will come without delay.