Interviewing candidates
As a recruiter, you will be the one responsible in the day-to-day hiring activities and managing information between the hiring team and candidates. In this section, you'll learn how to schedule, manage interviews, and prepare for the interview.
How to schedule and send customized interview invitations
Step 1:
Select the candidate for the interview from the Candidate list. Then, a pop-up window appears, click on "Interview" tab.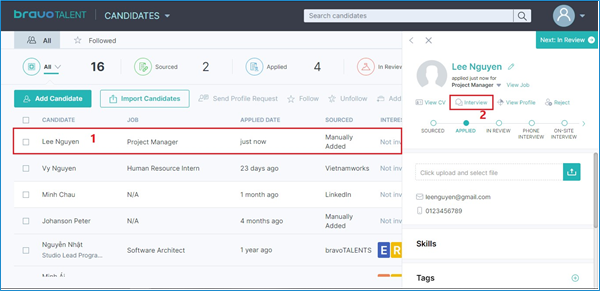 Step 2:
The Interview page appear, select the "Schedule Interview" button.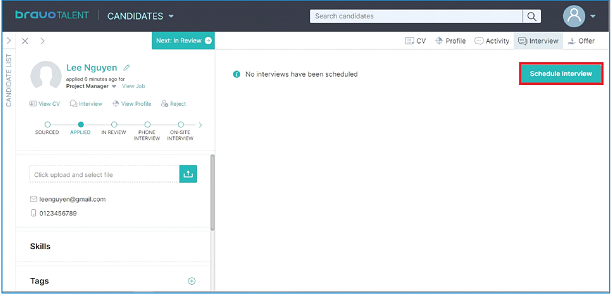 Step 3:
Schedule window displays, here you can set the information for the interview schedule.
Date: the interview date.
From, Duration: the interview's starting time and how it will take.
Interview type: Phone interview, Video interview or On-site interview etc.
Assessment type: the interview field topic, ex: communication assessment, technical interview, interview with clients, etc.
Interviews: email of the interview.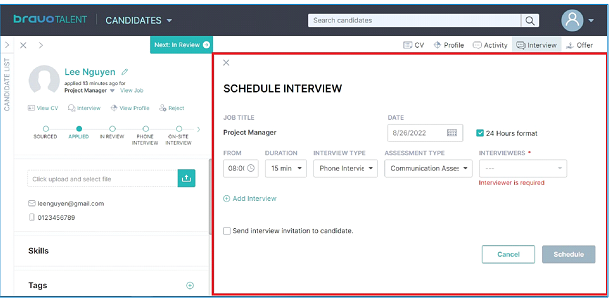 Check the box "Send interview invitation to candidate" for creating an interview email and send to the candidate.
After that, click on the "Schedule" button for completing the process.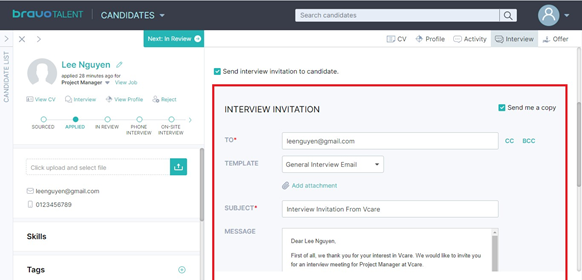 Prepare for an interview
The interviewer can prepare for the interview by adding some noted information.
Step 1:
Select the generated interview schedule from the Interview page

Step 2:
After entering the Interview Prep page, you can add some notes for the interview such as the purpose of the interview, some sample questions should be asked in the interview.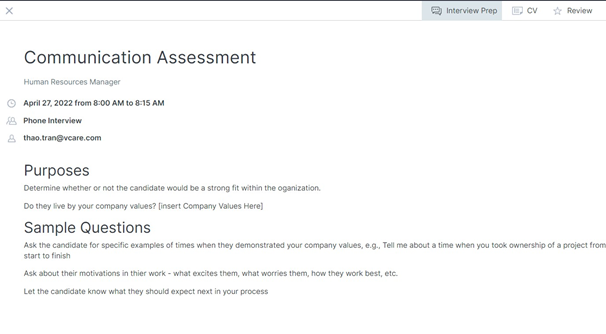 Review the interview
After conducting the interview, the interviewer can leave an evaluation of the interview by these following steps.
Step 1:
Select the conducted interview schedule from the Interview page.

Step 2:
Click on the Review tab, here you can choose the Interview Decision Passed or Failed and leave some Comments for the reason of your decision.


Products Feedback
We'd love to hear from you
Use this form to send us your comments.
* Indicates required field.