Getting started with bravoTALENT
Welcome to the bravoTALENT platform!
In this section, you will learn about the major parts of the bravoTALENT platform and how to set your personal preferences for using the platform to streamline your recruitment processes and finding the right candidates.
Setting up your account
When logging into your bravoTALENT account, you will start on the bravoTALENT "Jobs" page.
If you click on your user icon at the upper right corner you can change basic settings I.e., language, edit user profile, password, manage accounts and licenses, modify your company profile, and find information for support.
Account management
Manage your active accounts and set personal preferences on each account or streamline your organization.
License management
Check the license information of your active bravo applications.
Company Profile
Personalize your company profile.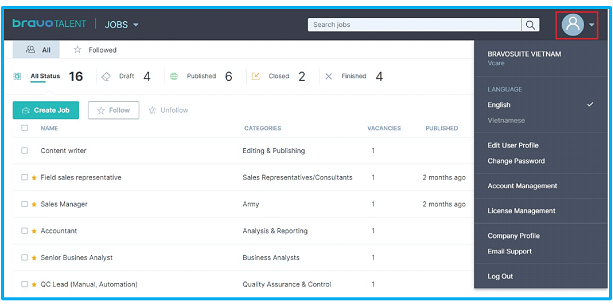 Using the dashboard
The dashboard is where you will navigate through the basic page functions of the bravoTALENT platform. Click the downward arrow icon next to your company profile picture to show 4 basic Page Functions:
Jobs
Candidates
Templates
Calendar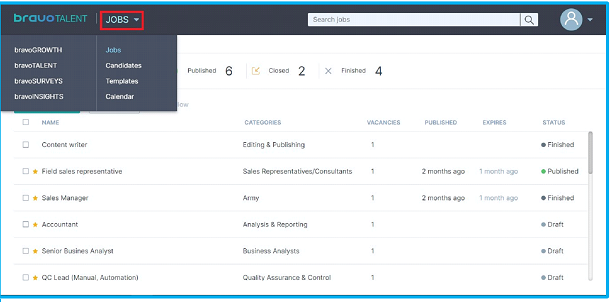 Products Feedback
We'd love to hear from you
Use this form to send us your comments.
* Indicates required field.